Customer Feature: The Perfect Barn Door Floor Guide With Monica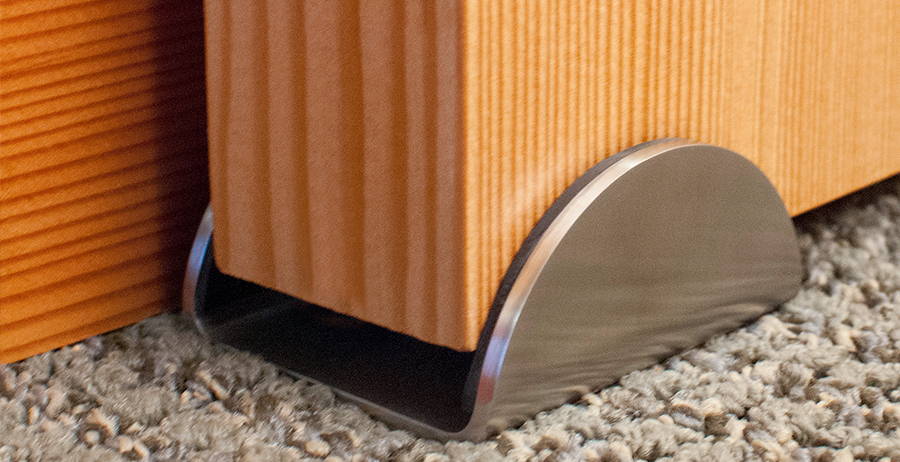 This week's blog post will feature a customer journey into finding the perfect barn door floor guide!
Our customer Monica was recently browsing online looking for the perfect barn door floor guide to match their main living area. Monica's space already had a barn door, and stainless steel sliding hardware from a different vendor installed. Another challenge was finding something that would match Monica's modern design aesthetic.
While there are many options available online, Monica opted to get our famous stainless steel C-Guide Sliding Barn Door Floor Guide.
---
"I was renovating my small condo with a double barn door for a room opening into my main living area. I needed to find a sleek door guide that would match my modern aesthetic and the stainless barn door hardware I had already installed. While it seems small, the floor guide was important as the majority of the ones I had seen were either bulky or required a groove in the bottom of the door. I didn't want either of those things. I was so glad to find that RealCraft had the perfect solution! They had a high-quality C-guide in stainless steel at the perfect width for my door. It looks sophisticated, is subtle, and was easy to install. Thank you, RealCraft!"
-Monica D.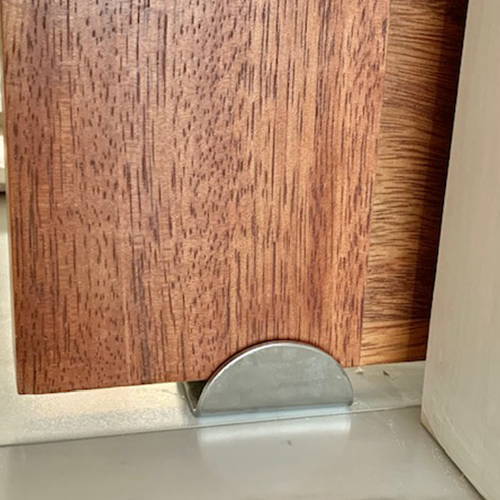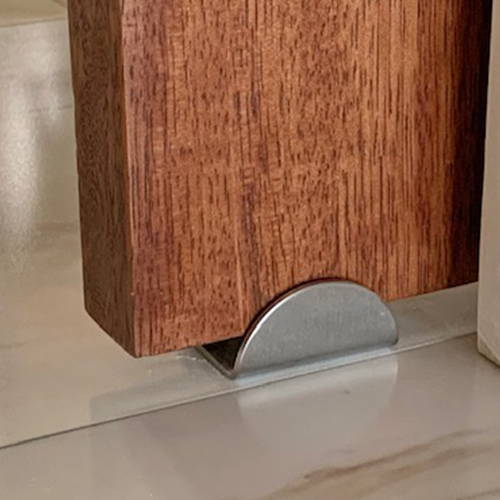 ---
The Benefits of the C-Guide
Provide a smooth operation for your barn door
We could not agree more with Monica's points! A floor guide is an essential barn door hardware piece that ensures an effective and secure sliding barn door operation. The barn door floor guide will provide that door will not wobble while moving on the track.
---
Another advantage of the C-Guide compared to other barn door floor guide is that the C-Guide does not require the door to be slotted! The C-Guide is available in three of the most popular door thickness:
Additionally, the C-Guide is also available in an adjustable format, which means you can easily install it to any door thickness!
---
Multiple finishes available
At RealCraft, we know that there are many different decoration styles and that all of them require distinctive materials in order to create a coherent scheme. Always with our customer's needs in mind, our C-Guide Sliding Barn Door Floor Guide is available in six different finishes:
Black

White

Unfinished (Raw Steel)

Oil-rubbed Bronze

Galvanized

Stainless Steel

---
Monica's impressions about RealCraft
Monica also shared a little bit of their experience buying from RealCraft. Check out Monica's comments below.
Why did you choose RealCraft?
High quality, beautiful aesthetic.
What are your favorite aspects of the C-Guide?
Design. Quality. Functionality.
Overall experience with RealCraft:
Super happy with my purchase from RealCraft. I called for specifics on the product and the representative was knowledgeable and very helpful. The delivery was quick and I could not be happier! Thank you!