Incorporating reclaimed wood into your home has so many benefits! Aside from how beautiful it is, making use of lumber that's already lived a full life in a previous fixture is a more sustainable choice than recently harvested lumber. It shows signs of its history that just can't be replicated. And no matter your decor style, reclaimed wood adds warmth and natural texture to your space. Read on to find out why we love reclaimed wood, and you will too!
Scroll to the bottom of this article to shop the reclaimed wood collection.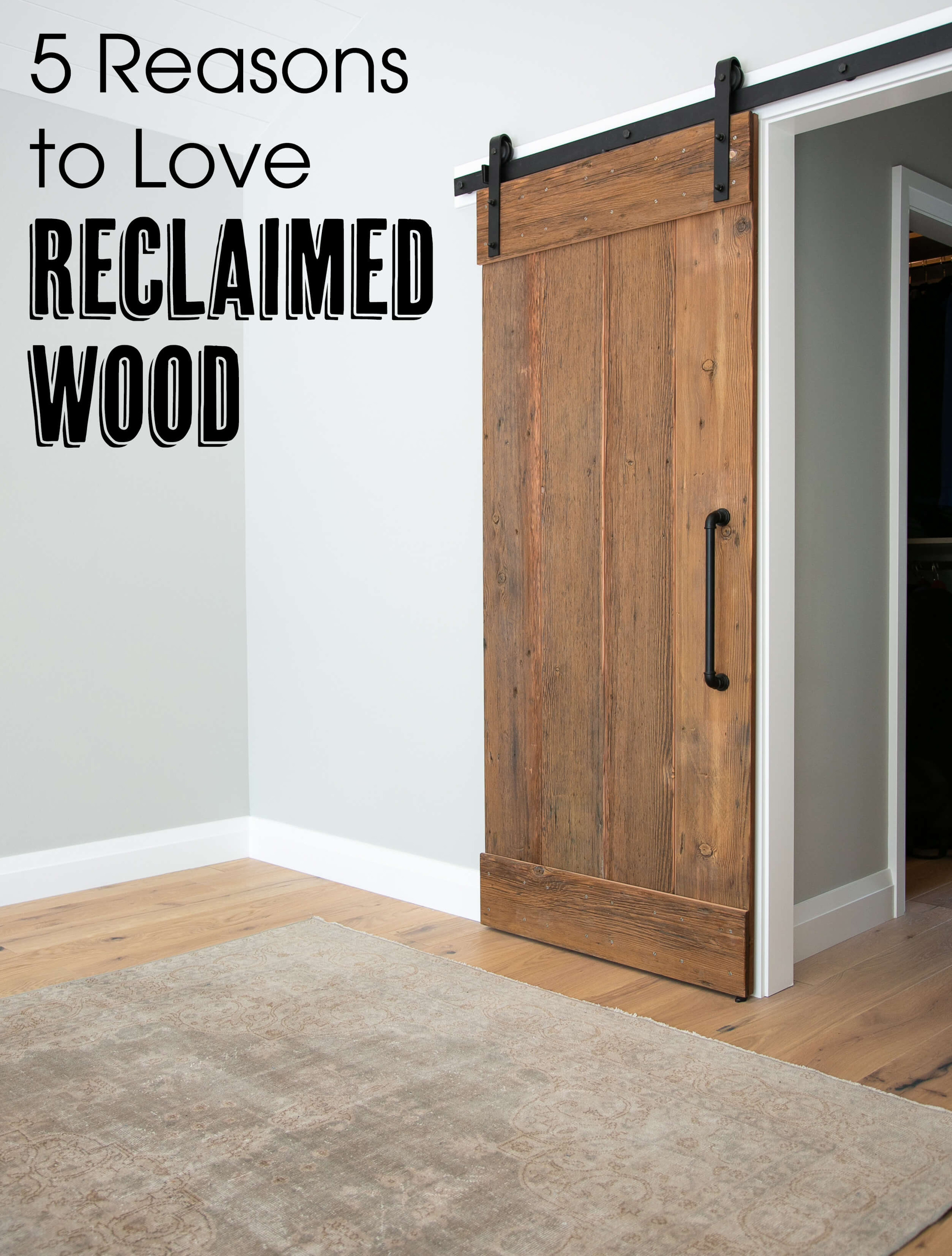 ---
1. It has authentic character. The "worn wood" look has made its way into just about every corner of home design and decor, whether it be a countertop, flooring, wall panels, or barn doors. Most of the time, the aged look is the result of an intentional weathering process, or a stain that gives the appearance of timeworn wood. But when it comes to unique characteristics, there is just no comparison to real, salvaged wood. Reclaimed wood often shows unique markings, nail holes, or etchings that hint at the story of its past. We once acquired lumber from the Port of Astoria in Oregon, which was reclaimed from the pier and net sheds. We found planks with initials carved into them, widely varying patinas, and even a plank with pieces of glass embedded in it! That plank was used to build a barn door for a local brewery, and they loved the unique touch. Those are details you just won't get from imitation weathering.
2. It's better for the environment. Wood is one of the world's most renewable resources, and producing wood products uses far less energy, carbon, and water than other raw materials. Managed forests are valuable for the wood they produce, the carbon dioxide they absorb, and the oxygen they provide. Wood is a safer choice for interiors than plastics or other synthetic materials that produce harmful off-gassing and will take centuries to disintegrate once they are discarded. Not only does wood reign supreme when it comes to sustainability, but reclaimed wood makes an even better choice. When you reuse building materials, you keep those items from going to waste, decrease energy consumption associated with the production of new materials, and you add something unique to your home.
3. It has great structural stability. Reclaimed wood has seen some things. Often exposed to the elements for decades, it has been worn and weathered to the extreme. Not only does this give it the appealing barn wood look, but it also means the wood is stronger. Reclaimed wood is bone dry and is not likely to warp or twist compared to first-use lumber. Wood salvaged from older structures often comes from old-growth timber, which will show a level of density, hardness, and tight grain characteristics that are difficult to find in new lumber.
4. It looks good no matter how you use it. Reclaimed wood is surprisingly versatile. Whether you find it in a whimsical farmhouse or a modern industrial loft, reclaimed wood has a way of tying a space together. It adds interesting texture that pleases the eye without stealing the show. Used as flooring, a bar top, ceiling panels, or even wall art, it makes a room feel lived-in and authentic. And of course, nothing beats a sliding barn door that is made of real barn wood.  
5. It has a story. The old Rainier Brewery. Oregon's Port of Astoria. Napa Valley wineries. A 140-year-old barn built by German settlers. These are just a few of the unique sources where we have acquired reclaimed lumber, and each new source shows characteristics that we've never seen before. Looking at decades-old wood and imagining the things it has seen is evocative and meaningful. As one of our craftsmen put it after building a reclaimed redwood door: "If these doors could talk, I'd listen."