One of the door styles we're known for is carriage doors. Carriage doors have the classic style that was once found on carriage houses, common in the late 1800s to early 1900s before automobiles became the prevailing mode of transportation. Carriage houses, or coach houses, were used to store horse-drawn carriages and tack. In modern times, many people still enjoy the carriage house aesthetic, and metal or plastic roll-up garage doors are often modeled after the classic designs. What makes our carriage doors different? We make real wood carriage doors that swing open, just like the doors of yesteryear. While many carriage-style garage doors have the desired look, we craft authentic carriage doors that honor traditional carriage house design.
People usually love the idea of genuine, swinging carriage doors for their garage, but they worry about whether opening and closing them will be more trouble than they're worth. Truthfully, manually opening and closing swinging garage doors is tedious. We recognized the need for an automated option, and worked with European engineers to develop a solution for fully automated doors, so we can provide both traditional design and modern technology. Read on to learn more about the different types of door and gate openers we offer!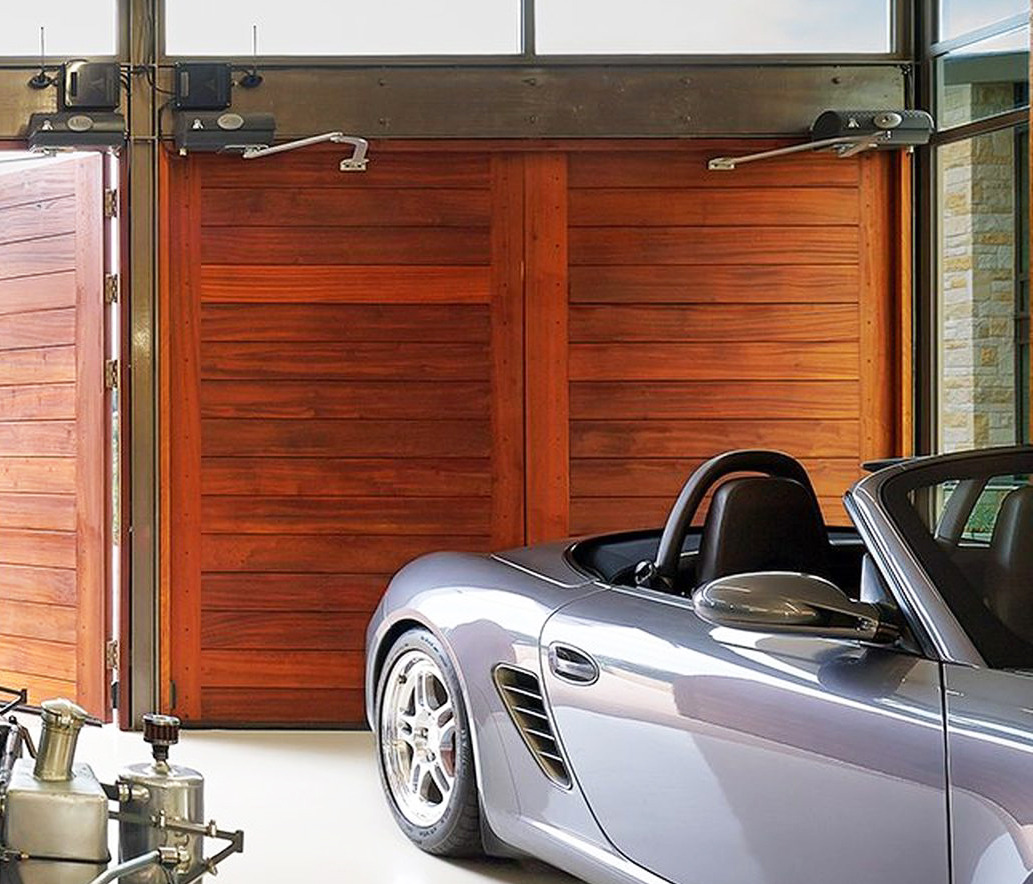 ---
Franklin Autoswing Carriage Door Opener
The Franklin Autoswing opener is our original design built for swinging carriage doors. The system is mounted right above the doors, leaving the ceiling clear of an unsightly overhead track system commonly seen with garage door openers. The low-voltage motors are housed in a subtle, sleek enclosure.
To make installation easy and frustration-free, the opener is ready to operate with minimal programming needed to set up. However, for custom needs there are many programming options available, including delayed opening, out-swing or in-swing configuration, decelerated closing, one-door partial pedestrian opening, password protection, and more. You can even use the Wi-Fi Hub add-on to allow up to 5 users to operate the opener through an app on their smartphone.
The Franklin is also compatible with HomeLink wireless control systems, and is available with a battery backup that complies with California regulations.
Fremont Swinging Door Opener
The Fremont system is made specifically for two out-swing doors. It features push rods that physically push the doors open, unlike the Franklin with uses a motor to automate an arm. A travelling 24V DC motor attaches directly to the out-swing doors via push rods, resulting in extremely quiet and smooth operation.
This door opener uses the smallest number of moving parts of any door opener on the market, making it exceptionally durable. Fully automatic force adjustment will not allow an obstructed door to burn out the motor. The Fremont requires no maintenance, and makes a great choice for standard swinging door applications.
Edison Sliding Door Opener
Intended for vehicular sliding door applications, the Edison garage door opener is a great solution for any large door that slides. It can be used with a single sliding panel, bi-parting, or bypassing sliding doors. There are three horsepower options so no matter your door size, there is an opener option you can use. This makes it an exceptional choice for commercial use, agricultural purposes, or residential applications.
We didn't see an opener like this on the market, and since we also specialize in sliding doors, we developed this option so you can open a sliding door just as you would your conventional garage door. It's that simple with an automatic opener! This opener can be mounted to the ceiling or the wall, and has several remote and keypad options, as well as a battery backup.
If you're looking for an automatic opener for your doors, click here to explore our opener and accessory collection, or call 1-800-694-5977 to consult with a hardware sales and support representative! We'd be happy to help you find the perfect opener solution.